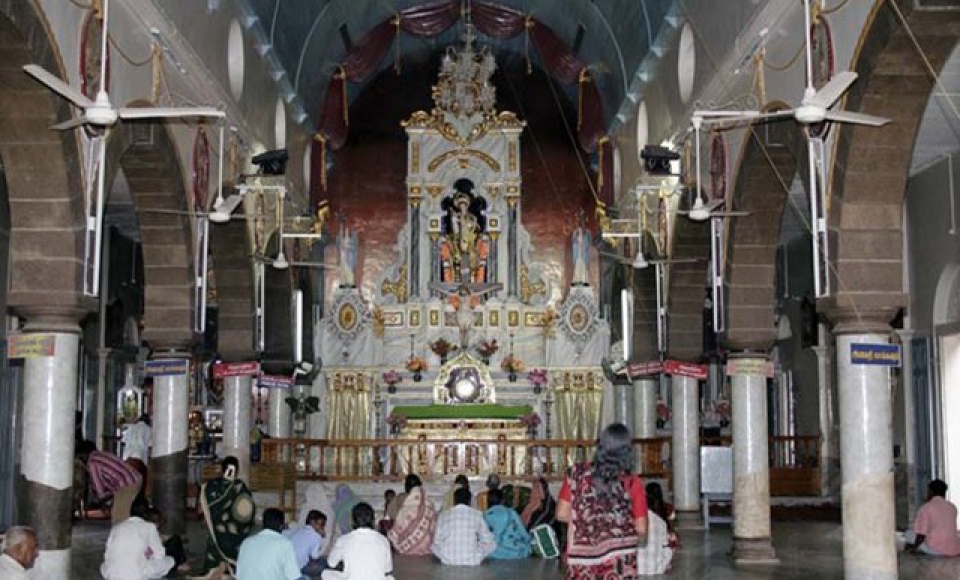 Puliampatti is more known for miracles than as a mere pilgrim centre. No one who came here is said to have returned with his/her prayers unanswered. It is a recorded fact that after the first miracle that Mr Thommai Anthony witnessed in his life, a series of miracles had been taking place. Those who were abandoned by kith and kins, friends and relatives, Medicines and doctors took refuge in the feet of St. Anthony of Puliampatti. The following miracles are extracts from the Diary of the Shrine that constantly and meticulously recorded.
1. THE AILING COW IS HEALED
In those days the merchants of Thisayanvilai used to travel to Virudu Nagar, Sivadasi and Madurai through Puliampatti. One day the merchants were carrying Sugar Cakes on bullock carts. Suddenly one of the ox suffered diahorrea. They could not find any remedy. One merchant fed the oil that was burning in the lamp stand under the feet of St. Anthony. The ox got back its life to the surprise of all. They thanked the saint and proceeded in their travel.
2. THE WITHERED COCONUT TREE BEARS COCONUTS
In Shenkottai there was a farmer called Kumaresan V. He had coconut trees around his house. When he was expecting coconuts, the trees posed a sorry state. The leaves of the trees got withered away. Almost the trees were on the brink of death. But Kumeresan hoping against hope went to Puliampati and earnestly prayed to St. Anthony. He carried the neem leaves from Puliampatti to his house. He ground them, with that he drew the sign of the cross in each tree. He fervently bore the trees revival in his prayers. As the days rolled by, the trees started to blossom new leaves. To this day this miracle is remembered in Senkottai.
3. THE CHILD IS BORN
Mr Kumeresan-Maduram couple in Shenkottai had no issues for long time since their happy marriage. They sought various counsels and ate different medicines. None worked out. Due to disappointment and depression Mrs Maduram was psychologically affected. This drove them to Puliampatti. In Puliampatti the couple had a twin intention in their prayers. One, to get healed from the mental sickness, and the other to get conceived of a child. Their prayers got answered. Mr Maduram conceived. And also she was healed from her mental sickness. The child was born . They named him Antony Ram. The couple went home with their hearts filled with joy.
4. THE DOCTORS ABANDONED; ST. ANTHONY ALLEVIATED
Mr. Vairavan, a clerk in a college in Chennai hails from Rajapalayam. He was married in 1954. For long time he had no issues.He consulted many eminent doctors such as Dr. Laxmi MBBS., Ambai, Dr. Puspanathan MBBS., Sankarankoil, Dr. Ragavan MBBs., Kovilpatti. They told Mr. Vairvan that it was impossible for his wife to conceive. Without losing hope the couple went to meet a celebrated doctors in Karur, Nagarcoil and Tiruchy. They too confirmed what was said earlier. Now the couple heard about the unfailing grace of St. Anthony of Puliampatti. They rushed to Puliampatti. In 1971, on the last Tuesday of the Tamil month, the couple prayed that they will name the child after St. Anthony. It happened. After 18 years since their marriage in 1954 his wife, on the 27th of Karthikai 1972 gave birth to a beautiful baby boy. The couple named the Child Anthony Pitchai, meaning the gift of St. Anthony.
5. THE NEEDLE COMES OUT THE THROAT
Mr. Thanis Maccatho of Thoothukudi had a son. He was playing with a needle in his mouth. Suddenly the needle slipped into his throat, gradually reaching his stomach. The parents got a shock of their life. They immediately prayed to St. Anthony of Puliampatti right from their home. to the surprise of all the needle came out. They rejoiced at this great miracle of St. Anthony. With Joy and gratitude they printed this event and distributed to all here in Puliampatti afterwards.
6. BROKEN LEG IS CURED
41 years old Mr. K. George, son of Mr. Gabriel of Sathur was working as a foreman in a factory. One day as he was traveling on a cycle he fell down and broke his leg in 1959. He was bed ridden. They took him to the eminent doctor Mr. Vadamalayan of Madurai. After wards he also got treatment from Mr. Laizander MBBS, but in vain. Finally he moved to Stanlely Hospitals in Chennai. Then half cured, walking with a help of a stick he came to Pulimapatti. He prayed to St. Anthony unceasingly for 41 days. On the last day he could walk normally without the help of a stick. Now he works in the same factory without difficulties.
7. THE LAME WALKED
Mr. Anthony Xavier and Alphonsammal of Periakadai Street, Thoothukkudi had boundless grief as their 3 year old daughter was lame. They trusted St. Anthony of Puliampatti and came to the Shrine. They were on their knees praying for the cure for their child. Their prayers were answered. The baby got up on her own legs and began walking to the bewilderment of all.
8. ST. ANTHONY SAVES AFTER DOCTORS LOST HOPE
Antoniammal of Palangottai, Kalugumalai, daughter of Mrs. Kulandaiammal had fever that left paralyzing her. The parents took here to Dr. Sennakesavan of Kovilpatti. A month's treatment bore no fruits. Upon being advised by him they took her to Madurai Government Hospital. There they requested for treatment by Dr. Rajendran a famous doctor. But things worsened. Antoniammal reached a stage where she could pull on only with the help of medical paraphernalia. She was fed through tube. The doctor finally lost hope. But Mrs Kulandaiammal took Antoniammal to St. Anthony's Shrine, Puliampatti on 8th February, 1973. From Naraikkinaru the mother carried her daughter on her shoulder fearing she might die if carried on a bullock cart. She laid her daughter under the feet of St. Anthony. With tears in her eyes, fearfully apprehensive of the impending death of her daughter, she prayed to St. Anthony. She could sense a gradual recuperation on Antoniammal. On the 41st day Antoniammal was walking in the shrine campus. Both the daughter and the mother have been coming to the Shrine to thank the Saint.
9. MIRACLE IN THE MIRACLE WELL IN THE SHRINE
50 years ago, one fine morning, Mr. Kasi of Puliampatti drawing water from the small well. Some other pilgrims were also bathing along. Suddenly the ox which were pulling the kamalai ran amok in a great jolt making the other ox fall inside the well with a daughter and mother bathing. People from around came to the rescue. But without even a slightest difficult all three lives were saved with no injury whatsoever. Years later, the same Kasi fell down into the well along with another person. Both were saved without any injury suffered.